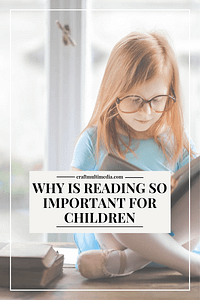 Books provide food for the brain. They teach children new things and help them with their development in a number of ways. Those that read benefit from higher cognitive ability as well as greater understanding of the world and emotional intelligence. If you would like to learn more about the benefits of reading for children, take a look at the list below that was put together by an early years educator.
Reading can help children a lot where their thinking skills are concerned. It can help them to exercise their imagination as visuals are limited. They must use their imagination to picture scenes and piece things together.
Each chapter is designed to hook you onto the next with cliff-hangers, twists, and turns. They leave children guessing and using their problem-solving skills to work out what will happen next.
Books can be hard to put down. Once they've found a genre of interest or a good author, your child will not want to stop reading. This is a great way of getting children to do work without even realising it.
It's important for children to know that we all have differing beliefs and to respect them. Books introduce children to a range of different opinions and ideas which helps them to be more open minded and have a better understanding of the world around them.
Unlike the other activities that we indulge in, reading keeps the brain active. This helps to strengthen the brain as it gives it a workout, helping to improve the memory and production of white matter.
Books can offer children a distraction and calm them when feeling overwhelmed by taking their mind off what it is that they feel stressed about.
They can also learn valuable life lessons too. Children's books do a good job of embodying key messages and can help them in difficult times such as their move to a new school.