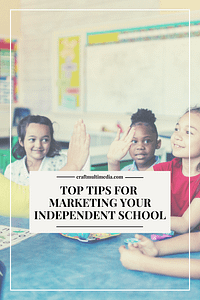 Choosing the right school for your child is a big decision to make both emotionally and financially. It's the place that you will trust to safeguard your child and help them to bloom into a young person which is why when marketing yourself as a school, you'll need to deliver a personalised service. It needs to be one that speaks to your prospects as real people, addressing their real needs and wants. To give you some tips on how that can be achieved, we have teamed up with a virtual school marketing platform based in London.
Your school's website is essentially an online brochure. It gives you the opportunity to showcase parts of your service using the various tools and forms of media such as videos that are more engaging. Unlike a paper version, there are no real limitations. You can shoot videos for as long as you want and add them to your pages. This allows you to do things like creating a virtual tour as part of your marketing your independent school.
If you want to go a step further and really make an impression with your visitors, you can create an interactive virtual school experience using a platform such as Kampus24. They allow you to create tailored "admissions journeys" that are sent to parents with all of the information that they could possibly need and is relevant to them. They are trackable which allows you to see how effective your current efforts are, see where your prospects need help and offer assistance to improve conversions.
SEO brings those that are actively looking for your service to you, helping you to attract higher quality leads. Unlike PPC, it is free. You will just need someone to create content and put monitoring and control measures in place.
Following these tips will help in marketing your independent school to students who are looking for virtual school.