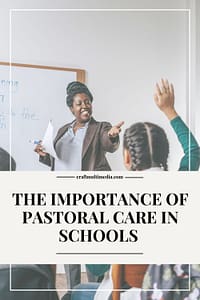 Seen as an essential by some parents, pastoral care greatly helps your child with their recognition of emotional and physical feelings. It's something that schools should provide for each child to allow them to learn about their individual thoughts, feelings and processes. It's also a plus for schools: better understanding of a child's needs is going to translate into better school performance.
Here are some reasons why pastoral care is so important for children in schools.
Teaches your child to identify their feelings
Children are able to develop a lot more skills through pastoral care support. The aim of this type of care is to provide your child with an outlet where they can express their thoughts, and gain actionable tips to improve for next time. This primary school in Buckingham is an example of a school that has a great care programme to support their students.
Helps schools work on areas children need support in
Each child is going to have very particular needs, and if schools are able to help them in working on solutions it makes them a lot more aware of how they can help their students. This can lead to further training for staff, better communication between staff and students, and other ways to help the school's approach to support improve.
Improves each child's focus in school
A happy child is going to perform the best in their studies, it's a known fact. A school that therefore provides children with that support system is going to help them be a lot more motivated.
Pastoral care is going to help your child work out what their strengths and weaknesses are. Your child might be struggling in a certain area in History, for example, and it's getting them down. That's a good opportunity for their teacher to help them with both their studies and their mental wellbeing.
It's something that's always going to help your child grow, so why not look into pastoral care options at your child's school?