Do you want to find long tail keyword with a low difficulty score that you can quickly rank for? If your answer is yes. You need to use keysearch for your keyword brainstorming. In this guide, I will focus on keysearch review.
Keysearch is one of the cheapest keyword research for just $17 a month. Online tools like semrush, ahrefs and Moz also offer keyword research in their bundle, but it is too expensive for new bloggers and freelancers to use. It will cost you up to $100 a month to use these tools. Don't get me wrong; if you have the money to buy these tools, you can go for it because it worth it.
Keysearch review for bloggers
Bloggers need a cheap and reliable tool for keyword brainstorming; this is why you should sign up with keysearch for a free month trial.
Keysearch Review: Common mistakes to avoid in SEO
If you want to get free organic traffic to your blog, website, and e-commerce site, you need to invest in SEO. SEO involves a series of steps that you have to take to appear in the search console for keywords and ranking positions.
New blogger writes their articles without any keyword research, and after some months, they discover that their articles are not ranking. After spending hours curating the perfect content for your readers, your blog post ranks in positions 100 – 200 in the search console.
Use content assistant opportunity finder to find long tail keywords for your blog.
Keysearch Review – How to Avoid SEO Problems
Research the keyword that you want to write about. This gives you a fairly accurate keyword difficulty score depending on the tools you use.
Know your domain authority and domain rating. While Moz uses domain authority, domain rating is a metric by ahrefs.
Target keywords with long-tail keywords below your domain authority or domain rating. A blog with a domain authority of 25 can rank high in the search console for keywords difficulty less than 25. You can also target keywords difficulty competition between 25 – 35. Your content must be above the average in length and build high-quality backlinks to your post.
Include your targeted keyword in your title. You can become creative by adding different words or phrases. Make sure that your title makes sense to your reader to increase your click-through rate because your readers are human and won't click on a title that does not have any meaning.
Google robots search through your first 100 hundred words to determine what your blog post is all about. Include your keywords in the first 100 hundred words of your post.
Place your keyword in your article, adding your keyword three to four times in your article body. This ensures that your article is indexed for your preferred keyword.
Add your keyword in the image and alt text of your article. Google also rank image for keywords, and you can get free organic traffic to your post.
Meta description should contain your keyword.
Keysearch Review: How to Use keysearch for SEO
Without SEO, your blog won't rank for high-quality keywords. Though you can get a few clicks once a blue moon, you will be losing valuable traffic to your blog and revenue. To make your blog stand out, you need to use different online tools to maximize your time and effort. You can use free online tools to find long-tail keywords, but the keywords you find might be difficult for your blog to rank for.
You need to use paid online tools, one of the cheapest online tools for your keyword research is Keysearch. These tools help you to find:
Long-tail keywords
Search volume of the keywords
Keywords difficulty
Top ten search result
Related keywords
Keysearch Review – Keyword Research Tools
This is the most widely used tool in keysearch, since SEO and bloggers are trying to find keywords to target in their articles. Keyword research tools give you highly accurate data for your usage.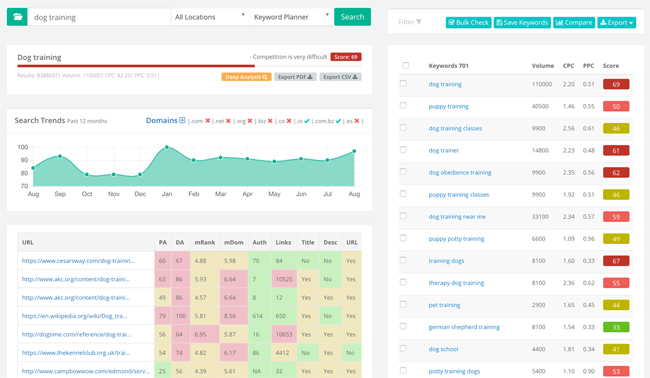 When you enter your seed keyword, keysearch bring out the top ten search result and related keywords in five different block filled with data.
The first data that appears is the keyword competition score, monthly search volume, cost per click (cpc), and pay per click (ppc). This is the most part of the overall data because it displays the keyword competition score. Any score above your blog domain authority or domain rating should be discarded.
You can look for a related keyword to find the keyword with a low difficulty score. If you are running an advertisement campaign, the CPC and PPC will give you the cost of each click for the keyword.
The second data to look at is the graphical representation of monthly search volume over 12 month period. This helps you to find if the keyword is seasonal or not.
The third data to look at is the top ten search results of the keyword. You get the domain authority, page authority, and Mozrank of the top ten search results.
Another data to look at is the ranking and traffic. When you click on this box, it will display a list of organic keywords that the post is ranking for and expects organic traffic. Depending on the position, you can get an estimation of the traffic that you can get for the keywords.
You can use keysearch review to get keywords that a blog ranks for in the search engine. These tools won't give you the complete data compared to ahrefs, semrush, and moz. You can get a fraction of the keywords of your competitor. If you want to use keysearch for competitor research, you should stick with Keysearch alternative like Semrush, ahrefs, and Moz.
Keysearch vs ubersuggest for bloggers to improve their SEO. While Keysearch have a paid plan. You can use Keysearch free but it is limited.
The last section that is very important is the related keyword tab; it brings out a list of keywords related to your focus keyword. It displays the competition score you can use to find the perfect keywords for your blog.
Use the filter to remove unwanted keywords. You can set your result to bring out 500 results per list. Careful go through the list because you can find long-tail keywords with high search volume and low competition scores.
Keysearch Review – Competition Score
This score gives you an idea about the level of competition of any given keyword. This is one of the best features of keysearch. Keysearch competition score uses different metrics like search volume, the number of blogs targeting the keywords, Moz domain authority and page authority of top ten search results, meta description, backlinks, and other factors to determine the difficulty score of the keyword.
It also uses color to show the different difficulty scores.
Light blue – low competition score that new bloggers can rank easily. It is usually between 0 – 19. Bloggers with a domain authority of 20 can target these keywords.
Light green – fairly easy competition around 20 – 29
Green – moderate competition around 30-39. Once your domain authority increases, you can look for this type of keyword. The only downside is that high-quality blogs also target this type of keyword, but if you work on creating high-quality content and backlinks, you should be able to rank for it.
Yellow – average difficulty and competition
Light red – fairly difficult competition
Red – very difficult competition. It is better to avoid these keywords as your articles won't rank.
Aside from Google, keysearch can give you data from Bing, Amazon, and YouTube. This is good for e-commerce sites and vloggers.
Keysearch Review – Quick Difficulty Features
If you are only interested in finding keyword difficulty one by one, you don't need these features because it enables you to search for keywords difficulty score in bulk. Keysearch can search for any given keyword difficulty score, whether one by one or in bulk. The bulk search can display all the difficulty score accurately.
Use free tools to bring out a list of keywords related to your seeded keyword and copy and paste the keywords to quick difficulty to find each keyword's difficulty score.
This tool does the same functions as the related keywords features; the only difference is that in the quick difficulty feature, you have to find your keywords by yourself, while related keywords will bring out the list of keywords by itself.
Keysearch Review – My List Features
My list features of keysearch help you save your keyword in a list that you can export to your computer. Imagine after spending hours finding keywords, and you didn't save the keywords in a list, you can't find the data of the keywords again.
What my list features do is that they create a list that contains all the keywords that you save. It contains the search volume, difficulty score, CPC, and PPC.
You can save your list in CSV or PDF format.
Keysearch Review – Backlink Checker
Backlinks are links pointing back to your URL, and with backlink checker, you will be able to find your blog ranking. Backlinks are one of the metrics that Google use in ranking URL, and post with a high number of backlinks have high ranking position in SERP.
Backlink checker like Moz, Semrush, Google search console, and ahrefs gives you the number of backlink pointing back to your blog. Google search console gives the blog owner to check the backlinks that Google can find for your blog for free, while other paid tools allow you to spy on your competitor's backlinks.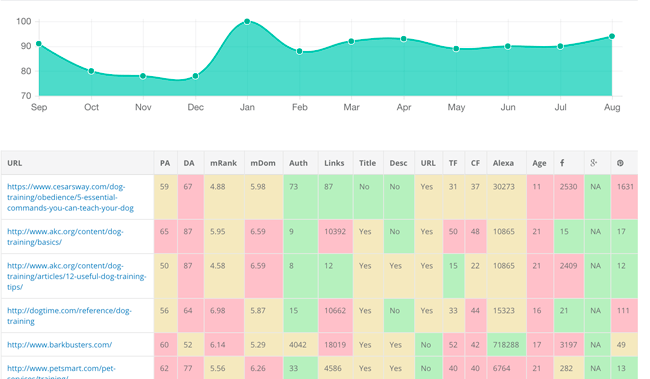 Keysearch also offers its backlink checker that allows you to find your competitor's backlink. After your keyword research, keysearch will display the top ten search results. This search result will give you the backlinks that they can find for the URL. This gives you the estimation of the number of backlinks you have to build to your blog post.
The only downside to this feature is that keysearch backlink checker is not comprehensive compared to other paid tools. It gives just a fraction of the backlinks and can lead to you not ranking for the keyword.
The only solution is to look for other tools for your backlink checker to get the current estimation of the URL backlinks.
Keysearch Review – Rank Tracker
After you have find the ideal keyword and you have written your article centered on the keyword, you need to find the ranking position. This is why  rank tracking content assistant comes to play; it helps you to find the ranking position for a keyword in a given URL over some time. You can use these tools to find whether your ranking position increases or decreases.
Keysearch starter plan comes with 80 keyword tracking per month, and their pro plan track 200 keyword for you.
Keysearch Review – YouTube Research
YouTubers can also use keysearch research to find keywords you can rank for. Youtube Research features work like the keyword research features because it gives you a difficulty score of rack keywords and other data like video age, page views, likes, dislikes, comments, title, and description. Explorer competitive analysis youtube gives you a fair estimation that you can gauge each keyword. YouTube can help bring traffic to your blog; you can include your blog post URL to your video description for your viewer to know more about the topic.
Youtuber are making money from YouTube, and you use keysearch to find low difficulty scores, and when your viewers increase you can partner with influencer marketplace to find sponsored post for your channel.
Keysearch Review – How much does Keysearch cost?
Keysearch offers users a free one month of usage for just $0. This allows you to check if you like the tool or not. If you like you can then migrate to their paid plan.
Starter plan for just $17 a month or $169 for a year, you get
200 Daily Searches & Analysis
YouTube Research
Exact Domain Check
80 Rank Tracker Keywords
Link Analysis Access
Reporting/API Access
While the Pro plan is $34 a month or $279 a year.
500Daily Searches & Analysis
YouTube Research
Exact Domain Check
200Rank Tracker Keywords
Link Analysis Access
Reporting/API Access
How to make your blog post stand out
Writing a blog post won't give you a page 1 ranking; there are a lot of new blog posted daily, and if you want to compete for organic traffic, your blog post must be on page 1. Improve your SEO score by using professional SEO expert.
To make your blog stand out, you need to invest your time and resources in building high-quality backlinks. Do follow backlink passes juice ranking to your blog post, which boosts your ranking position.
Though it takes time for Google to find your backlinks, and if the backlinks are of low quality, Google might not index your backlinks which means your effort is wasted.
Building high-quality backlinks will skyrocket your organic traffic, and your keyword research will pay off.
You can build backlinks by following this method:
Blog commenting on high-quality blog can also give you referrer traffic from the blog.
Forum posting.
Guest posting on high-quality blogs, you should look for blogs that have a higher domain authority compared to your blog domain authority.
Infographic – create high-quality infographic and reach out to fellow bloggers if they want to include the infographic.
Final thoughts on keysearch review
Keysearch is a cheap tool to find keyword difficulty scores and search volume accurately; the data can help bloggers find keywords, and if the post is properly search engine optimized, you are sure to get a high ranking position.
It also comes with other tools like Youtube Research which is good for YouTubers and backlink checkers, though not as accurate as other paid backlink checkers. It gives a fraction of the backlinks, and they are working on improving the capacity of their backlink checker.
Is KeySearch worth it?
The Keysearch review will help you to consider the best keyword alternative compare to Moz, Semrush etc.
It comes with a free one-month trial to check if the tool is right for you and you use keysearch coupon code to reduce the fee.