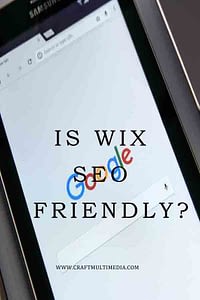 One of the best website builders in the market is Wix, its unique selling point is that user can create any type of website with no coding skill using their drag and drop features.
But over the years wix bad reputation in SEO has been a drawback to its features because many believe that website built using wix is not SEO friendly.
But this particular problem has been fixed and webmaster using Wix doesn't have anything to complain about.
This article will focus on the key features that all website builder has, that makes them SEO friendly and if Wix has updated its framework to support SEO.
The difficulty webmaster faces when using Wix is because wix add codes to the URL of pages and post, this feature is not SEO friendly at all. Instead of the standard URL of a website like www.goalgetter.com, what Wix does is to /#!about/xis9 to the URL and it becomes www.goalgetter.com/#!about/xis9.
Another drawback to wix is that unavailability of alt attribute for images that you upload, this causes search engine robot not to crawl and index the images for keywords, thereby depriving you of website visitor from image search.
These two unique problems are the main reason why many webmasters avoid using Wix, but this has been fixed in 2016, but the bad reputation has force webmaster to completely forget about wix, even after they correct the anomaly.
SEO features on Wix
Wix can be used to build any website from small business website to blog, the only downside is the bad reputation causes as a result of low ranking of website, but this problem has been fixed, we consider the SEO features that is must for every website.
Sitemap
If you are thinking of getting organic traffic from search engine, you need to create your sitemap and submit it to search engine console. A sitemap is XML file of your site that informs the search robot of pages that they should crawl and index and pages that you don't want to crawl and index. Without this sitemap, search robot won't be able to find your website and your dream of rank well on search engine is over.
Wix helps you to generate an automatic sitemap of your website, make sure that you submit the sitemap to search engine console.
Title Page
The title page is where you add the title of your newly created post. Wix allows the user to customize the title page to their desire. Make sure that your title page contains the keyword that you want to rank for. The title is display in the search result and the first thing that new visitor sees when they enter your post, so creating compelling title would make them read your post.
Optimized URL
You can optimize URL when the title of your post is too long and you want to include on the targeted keyword in the URL, Wix allows you to optimize your URL.
Heading Structure
Search engine crawl post for keyword by looking at h1, h2, h3 etc, being able to include keyword would enable search robot to crawl and index your keyword accurately. It is possible for webmaster using wix to include keywords in their post, this helps search console to understand your post better and gives you better ranking position.
Meta Description
This is a small text display on the SERP alongside your blog post URL, this feature help to increase the click-through rate, Wix allow the use of meta description of your post, ensure that your meta description is well detailed and contains keywords to increase your click-through rate.
Alt Attribute For Image
Having an image on your post can be beneficial to the reader because images explain better what your post is all about. A well-optimized image can be crucial to your ranking position because robot would be able to crawl and index your image for keyword. This is one of the main problems that users on Wix's platform complain about, but in 2016 this issue has been rectified. You can now add alt text for the image on wix and get high ranking in image search.
SSL Certificate
Google rank website with SSL certificate higher compare to website with no SSL certificate installed. SSL certificate is one of the metrics that determine your ranking position because they want to protect web visitor of their data. You can install SSL certificate on your website built on wix, if you have not done so, start today and see the result in the coming days.
301 Redirect
If you have a new page and want to direct web visitor from old page to new page, you use 301 Redirect. This help to prevent broken links and maintain ranking position by passing ranking position of the old page to new page. Wix allows the use of 301 Redirect.
Mobile friendly
Due to the release of mobilegeddon update, Google now penalizes sites that are not mobile friendly, since mobile user is on the rise and there is the need for you to make your website mobile friendly to avoid Google penalty and rank higher in the SERP for mobile searches. Wix website is mobile friendly, if you don't know how to make your website friendly, you can contact the customer support.
Google Analytics
Google analytics is a tool developed by Google that help webmaster to get detailed result of their website ranking, keywords that you rank for, click through rate, and organic position. Wix allow webmaster to connect their website with Google analytics.
Wix have upgrade its platform and it is now SEO friendly, but most user on wix still complain that they are not getting organic traffic at all, and if they are getting traffic from search engine, it is low.
Getting traffic from search engine involves time and patience. Search engine like Google is only interested in displaying high quality result to user question. If you are not traffic from search engine, it could be that:
Webmaster has not submitted the sitemap of the website to search engine. The sitemap is the lists of pages and post that search engine robot will crawl and index for keywords.
Poor keyword research about topics that they are writing about can lead to ranking poorly in the SERP. There are keywords that established sites with high domain authority would rank for and there are long tail keywords that new sites with low domain authority would rank for. The key to ranking higher is to go for long tail keyword with low competition.
Not add keywords in alt text of image can also lead to low ranking. Wix has fixed the issue of alt text of image, include the alt text so for Google can crawl and index your images in order to appear in image search on Google.
Low quality or duplicate content can also lead to poor ranking position in the SERP, duplicated content that are spin from other website would rank lower than the original content.
Website that is update regularly with fresh content would rank higher than website with old content. For example, look at the date the content appearing in page 1 on Google and look at the date published, you would notice that the content are not old.
Google do not crawl and index post with less than 300 words, because it believes that it is too thin.
Lack of keyword optimization in the post can also lead to low or no ranking at all for keywords. Ensure that your keywords are evenly distributed in the title tag, alt tag, h1, h2, and conclusion. So that Google spider can crawl and index your post.
Low quality backlink also plays a major part; website with high domain authority would easily rank higher compare to website with low domain authority. Build quality backlink from established site in your niche and your domain authority would improve.
This factor is not limited to website built using wix, but can also happen to other website, search engine want to serve their user with quality contents and if they deem your content not of high quality, it would be hard to get any traffic to your website.
Wix is now SEO friendly and website built on this platform do not have to worry again, the bad reputation has been corrected and you can be sure that if you follow all SEO guideline, your website is sure of getting organic traffic.