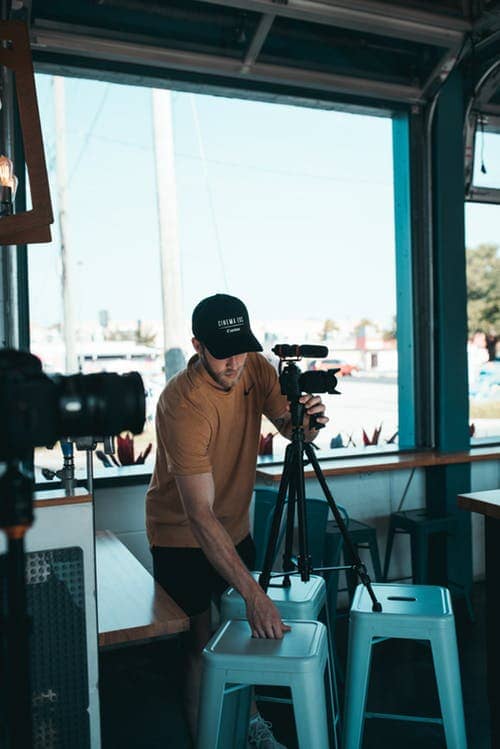 Do you want to become a vlogger, and you don't know how to start a vlog?
You have come to the right place; I will explain 7 steps to start a vlog. Following these steps will give you a better understanding of vlog and how to monetize your vlog.
Most vloggers start as a hobby, and some vlogger has turned it into a money-making scheme. The more your video viewers increase, the more money you can make from your vlog. This is one genuine way of making money online.
Video bloggers are just like other bloggers but what they focus on is about creating high-quality videos instead of articles. Most bloggers also can be classified as vloggers because they embed videos in their posts to increase their reader engagement.
To start a vlog, you need to upload your videos on YouTube and other platforms. But YouTube is more common due to its large user.
How to start a vlog for free
1. Get a Good Camera
Vlogging involves the use of a good camera to produce high-definition videos. You can start small by buying a used camera on Amazon or eBay, and when you earn money, you can buy an expensive camera.
The camera you choose should have good audio to record your voice and high image quality.
You can try using your smartphone camera to record your video and upload the video to your viewers. Ensure that the viewer can see your face clearly and edit your video before uploading.
After getting your camera, the next piece of equipment you need is to buy
a microphone to record your voice, video editing software, a laptop, a background, tripod stand for your camera, and a lighting set-up. This will cost a lot of money, and the video will be of high quality.
2. Practice
Except if you have prior experience being on TV, you need to practice so that you don't appear clueless.
Look at other vloggers in your niche to get an idea about the video and audio quality of their videos.
You can practice by filming yourself as a rough test of your main video.
Check the audio quality of the video.
Quick editing of the video to become familiarised with the software.
Ask your friends to review the video and note what they like or not.
Repeat the same process until your video looks professional.
3. Pick a Niche
Pick a niche you have experience in and are confident in creating high-quality videos.
Your vlog is an opportunity to showcase your work to the world, and you don't want to sound like a novice. Vlogger that likes food can create videos about cooking, cooking ideas, and videos related to the kitchen.
Pick a niche that you are interested in or have skills to showcase.
Research more about the niche to know more about it.
Create your channel on YouTube. You should stick with YouTube because it has the highest viewer. Another platform that you can create your account is Vimeo and Instagram
Pick a username related to your niche. A food vlogger can use a username like chefbase or kitchendiva. Make sure that your username is short and easy to understand.
4. Record Your Video
Now that you have created your YouTube channel. The very next thing to do is to record your video. This will be the first video you will upload to your channel. You can upload any video you feel like, but I advise you to stick with one niche.
Before recording your video, make sure that you can carry out these steps.
Check if you have good lighting; this helps your video be high quality and not dark.
Check the audio quality of the rough video you make. Poor audio quality can affect your video engagement.
Write down what you want to say to your viewers; this prevents you from rumbling and increasing your video length.
A good video length should be about 6 – 12 minutes. Make sure that you covered everything within the time frame. But if you have more to say, you can turn the video into a mini-series.
Make sure that you engage with your viewer by asking for their opinions, what they want in your next video, and replying to their comments.
5. Edit Your Video
Edit your video makes it look professional, and you can remove part of the video that you don't like. You can use windows live movie maker to edit your video.
If you are not sure of your skill to edit your edit, you can look for a video editor to edit the video or learn video editing software to improve your skill.
6. Upload Your Video
Upload your edited video to your YouTube channel; make sure that you fill out the title page and a quick description of the video. This increases the video ranking for search keywords and traffic to your video.
YouTube is the second-largest search engine after Google, so you have to treat YouTube like Google.
Share your video link to your social media follower to increase your viewers.
7. Monetise Your Video
YouTube allows vloggers to monetize their videos. To join their platform, Youtuber must have a lifetime of 10,000 views before they can display ads on their videos.
Getting your 10,000 views is quite easy; upload videos regularly, and you can collaborate with bloggers, social media influencers in your niche, and vloggers.
Vloggers can also become social media influencers on YouTube and Instagram.
Reach out to a brand or join a media agency for sponsored post. This is another way of making money from vlogs.
Starting a vlog is very easy; make sure you upload a high-quality video and don't worry about the negative comment. When your video viewer increases, you can monetize and use the money to buy the equipment you need.
Ensure that the video you are uploading does not have any copyrighted material to avoid your video being removed or outright banned.
Following these steps will help you to start a vlog.