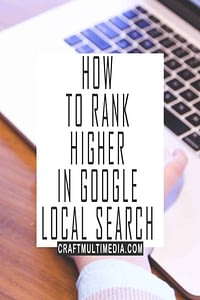 Every business owner want to rank higher in keywords related to their business to increase their brand, website visit, online exposure, and revenue.
Almost all business owners have an online presence in the form of a website to inform their customer of new and exciting products that they offer.
If you are a business owner and you don't have a website of your business and you want to create your own business site, I have written a complete guide on how to choose your domain name and create your website.  Online presence brings about better conversion rates because customer knows more about the business before stepping into your office to buy your products or services. 59% of user search Google for local businesses and 82% of customer visit the stores, purchase products, or call the location after their search.
I have already listed the benefits that you will derive when you have your own website but getting organic traffic to your website is the difficult part.
Getting traffic from Google as a result of higher ranking in SERP is difficult because Google only cares about giving quality answer to user question and if they deem your website not relevant to user query it won't display your website in the result.
If you are in this condition that the amount of organic traffic to your website is too low, then you need a strategy, that let you rank higher in Google local search. This strategy would help your business in getting the much-needed exposure and traffic that your website craves for.
Before thinking of creating your website, the first step for every business owner is to look for a domain name that is related to your business and is free from Google penalty.
Domain name is the address that your website that visitor input in their browser in order to visit your site, make sure that the name is unique and easy to remember.
Include your business niche to your domain name so that visitor would quickly understand what your website is all about.
Google has penalized business owner using Exact Match Domain (EMD) and encourage the use of business keyword and the location of your business, domain name like ''Houstonpetstore.com''
Another benefit of using geolocation domain name is that when user ask a question like ''best photographer in London'', Google displays the result of photographer in London and if your domain name has ''London'' you can rank higher.
Always go for com extension because it is the most common extension and web visitor usually assume that your website end in com extension and this can lead to reduction in website visitor. A new trend in the startup business is the use of service extension domain likes .tv, .agency, and so on, using the extension involves spending a huge amount of money on branding, you should only go for the extension if your preferred name is unavailable or the owner is asking for high amount of money.
There are different Content Management System that you can use but the best is WordPress. It is the largest CMS in the market more than 27% of website using this platform. So it is better to follow the crowd. But before you can use WordPress, you have to host your website on hosting platform.
I recommended using BlueHost; this is because of their excellent customer service and easy to install.
If you don't have any experience in web design, you can outsource the development of your website to professional website designer and tell them your idea and what you want on your website. A good design website can help reduce the bounce rate of your website.
Make sure that your website is mobile friendly to avoid losing customer and visitor who access your website using Smartphone. Google also penalizes site without mobile-friendly design and this can also reduce the number of organic visitor to your site because Google would display result and favor site that is mobile friendly.
Using a personal email address on your websites like [email protected] or [email protected] looks unprofessional and leads to loss of customer trust of your website and business as a whole.
A professional email address using your domain name instead of free platform like Gmail or Yahoo make you stand out and shows that you are a professional business owner. Your business email address should look like this [email protected]
Search Engine Optimization
A well-optimized website would experience an increase in the number of organic traffic, this is because Google who be able to crawl and index your website for keywords accurately.
Submit your website sitemap to search engine console like Google, Bing, Ask, or Yahoo, this tells them that a new website is created and they will crawl and index your website.
To rank higher for local search, your body content, title tags, and meta descriptions should contain the name of your city that your business is located at. For example, a business owner that want to rank for plumbing in New York should include plumbing in New York in their content title, H1 tag, and meta description.
Make Your Website More Secure
Another factor that helps you to rank higher is to make your website more secure. Search engine favors result from a website that is secured than unsecured.
If your site starts with https instead of the traditional HTTP and/or your browser display a locked green padlock beside your website address instead of a small letter 'i' in a circle, this means that you have install SSL on your website.
If you are using BlueHost and you have not installed your SSL certificate, Bluehost offer free SSL certificate.
Login into your Bluehost admin page and click on sites.
Click on ''manage sites'' on the dashboard.
Look for the security tab and turn on the free SSL certificate for your website.
Wait for a few minutes and type your blog address in the search tab of your browser, there will be a green icon around your blog address, your website is now secured.
If you are using a different hosting company for your website, you can contact them on how to install SSL certificate on your website.
Reduce the Loading Time of your Website
Another key factor that determines if your website would rank higher or not is the loading time of the website. A slow loading time of website would lead to high bounce rate because visitor would quickly leave your website and send signal to Google that your website is poor and thereby reduce your position in SERP.
A loading time of 1 second is the ideal for all website but 2 – 3 seconds is still manageable.
Head over to Google Page Speed Insights to check your website speed. If your website score 85 and above you are sure of ranking higher for keywords and getting decent traffic.
If your website has a poor score, Google Page Speed Insight offers free suggestion that you can implement on your website which will lead to a high score.
Create and Optimize Google My Business
Google My business help local business to improve their online presence and help user to locate their address faster.
Create an account and input your business name, business address, telephone, and email address.
Verify your information and you are sure to get the organic traffic to your website thereby increasing your business revenue.
Improve Your Online Review
If you think online review doesn't affect your business, you are wrong! Google believes that a good online review of your business would increase your website exposure and visibility.
Customer trust and make a buying decision on the online review, websites that focus on local search would benefit from positive review because it would lead to increase in type in traffic, high click-through rate, and drive customer to your store, thereby increasing your revenue.
Encourage your customer to write a review about your business customer and also offer meaningful reply to negative review.
List Your Website on Local Directory To Create Local Presence
Depending on your country, there are local directories that you can list your business listing on. This local directory brings visitor to your website and improves your brand.
Add your business name, business address, photos, telephone, website, and description of your business.
Local directory is not the only way that you can use to create a local presence in your community, you can start by attending business event related to your business, teach a free class related to your business, and involved in local charity.  This makes you stand out and makes you an authority in your field.
Build High-Quality Backlink
New website has a low domain authority and is hard to rank for keywords with established website with high domain name. But you can increase your domain authority by building high-quality backlink.
Backlink are link juices that others website pass to your website because they trust your website and believes that visitor on their website would gain more if they visit your website.
Social media like Facebook, Twitter, Pinterest can be used to create high-quality backlink, this is because of the high domain authority. Create a social media account for your business and include your website, business address, and description of your business. Posting relevant information on your business social media account can also help you to rank higher because Google uses social signal as one of their metrics to determine search result.
Another way of getting backlink is to create high-quality infographic and contact webmaster if they would like to include the infographic in their post. If they include the infographic on their post, you have created another backlink to your website.
You can also join a forum related to your business and include your website and description. Posting regularly on this forum can also help to bring about traffic to your website; do not spam this forum with your link as it can lead to being banned.
Ranking higher in Google local search involve time and patience, following this strategy would help your website to rank higher and thereby increasing your business revenue. Avoid buying backlink because it can lead to Google penalization which would affect your business.
Are you a business owner, Do you have any other strategy that you use to increase your website rank higher in Google local search. Let us know in the comment box below?