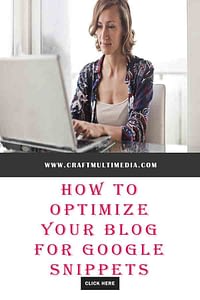 Getting organic traffic from Google search engine is getting difficult this day with a lot of competition in your blog niche. Gone are the days where your newly created blog can rank higher after some months giving you the much needed organic traffic that your blog needs.
Another problem new and established blog face is the sudden reduction in the number of organic traffic due to Google Featured Snippets which display result higher than result n the position 1.
When you ask any question, Google displays a box with a short answer, image, and link to the blog, this box rank higher than blog that occupies the first page in the SERP. This box is called featured snippets and help to increase visibility, click-through rate, and organic traffic.
If your content is selected on featured snippets, your blog post will definitely get more exposure from Google thereby helping you to get the much-needed traffic.
What is Featured Snippets?
Featured snippet is a single and unique result selected from a list of other results that is displayed in a small box to give user answer faster.
The main reason why Google introduced featured snippets is to give the user the answer to their query faster, without leaving the Google search engine and display the blog link to allow the user to visit the site for more information thereby leading to increase in organic traffic, revenue, and blog page view.
If you think I am lying, Search Engine Land conducted an experiment to check if getting featured in snippet increase organic visitor, and their result shows that the website experience an increase of 516% in session, the click-through rate (CTR) of the page increase from 2 percent to 8 percent and the revenue from organic traffic increase by 67 percent.
Type of Featured Snippets
Featured snippets sometimes are called by Google answer box because the only question triggers Google to display featured snippets.
A query like ''Pinterest'' on Google would not display featured snippets because the search engine does not recognize the query as a question but query that ask a direct question would display featured snippets like How To Start Blogging.
The next step is to understand the different type of featured snippets that is display on Google.
Paragraph – The answer is displayed in a box as text along with images from the blog post and image.
List – The answer is displayed as 4 – 5 lists of the answer to the question or query.
Table – The last type of featured snippets that Google used in displaying answer, it displays a table showing necessary information.
Of all the type of featured snippets used by Google, the most common type is paragraph, as it displays an answer from the blog post along with the image. According to Getstat, Paragraph snippets are used 81.95% from the featured snippets used by Google.
How to Get Feature On Google Featured Snippets
We already know the benefits that you can get from being on featured snippets, this makes it one of the most popular methods that SEO used to get higher traffic to their website.
But what new blogger don't know is that there is no official guideline from Google on how to make your post optimize for featured snippets.
This statement from Google has stopped a lot of blogger from optimizing their content to be on featured snippets. But there are steps that you can take to help your content in order to get the blog visibility on Google.
According to Ahrefs, they conducted research on the probability of new content to be on featured snippets and the result shows that 99.58% of featured post on featured snippets rank in the top 10 on the Google, if you are not sure of their finding, you can also conduct your own experiment by asking question trigger and see the result for yourself.
When I conduct my experiment I discover that all the featured snippets already rank on Google from position of 4-7. This means that for an old post that is already ranked on Google, they have a higher percentage of having their post being on featured snippets.
Another experiment conducted by Getstat, shows that 70% of featured page on featured snippets rank below the position 1 in the SERP, this confirms my earlier experiment. So for your post to be on featured snippets you have to be already rank in page 1 of SERP and lower than position 1 in the SERP. Have it in mind that the post that is selected to be in the featured snippets is down to Google, but maintaining a higher rank for question trigger keyword on Google would increase your chance of being featured.
Steps to Take In order to Feature on Featured Snippets
I have already explained the query that trigger featured snippets, the next steps is how to be in a position that improve your chance of being featured.
The first step for any content curator to take before writing a blog post is keyword research. This helps you to know more about the keyword that you targeted with metrics like total monthly searches using Semrush, Google Keyword Planner, keyword trend, and keyword competition.

To have a chance of being selected on featured snippets, keyword research is the key, because it prevents you from writing about topics with high keyword difficulty.

New website has a domain authority of 0, but increases as backlink link back to the website, with a score of 0, new blogger should avoid keywords with high competition and focus on long tail keywords with low competition that is easy to rank on page 1 of Google SERP, thereby increasing their chance of being selected.

Log on to your Semrush account or if you don't have an account you can create one for free on their website.

Enter long tail keywords related to your topics and click search. Studies show that long tail keywords are feature on featured snippets when compare to short keywords.

We already know that question trigger featured snippets, so start your keyword with how, why, recipe, review, and so on.

It will display the keyword search volume, keyword difficulty score ranging from 0-100; new website should look for keyword with difficulty score of 10 – 20, because it will be easier to rank for and related keywords.

After finding the keyword that you are interested in, write a well-detailed article and publish it on your blog.

Ensure that you include the keyword on your content, wait for a few days so that Google would crawl and index your blog post.
Following this step will help your blog post to be feature on featured snippets which will increase your blog page view and revenue. Do you have any questions, share with us in the comment box.