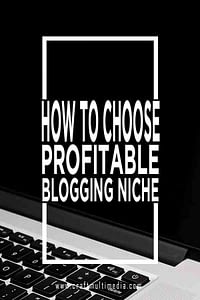 Do you think of starting a new blog and you are wondering which niche to choose. There are different niche that new blogger can choose depending on their choice.
The good news is that there is no niche that you can't focus your new blog about and post an article to your esteemed reader.  If you are wondering steps to take to start a new blog, I explained the step to take to find the domain name that would suit your blog better and how to start your blog within 15 minutes. Make sure that you read the article before starting your new blog.
There a different hosting company that you can use to host your blog, the best web hosting in the market is Namecheap. you can host your blog, and get free SSL certificate on your blog.
What Is Blog Niche?
Blog niche is a group of topic or article that focus on one particular area. There are different blogging niche with different audience in mind, for example:
Health and Beauty Niche
Parenting Niche
Tech Niche
Making Money Online (MMO) Niche
Personal Finance
Food Niche and so on
How to choose a blogging Niche
Blogging involves the publishing of well-detailed content for your blogging audience to read about. You are carefully researching about the topics and write down the content filled with fact to help your reader. To choose a blogging niche, you have to be passionate about the niche and have experience in the niche to help your visitor.
To choose a blogging niche, you have to be:
Passionate about the niche you want to write about.
Have experience in the blog niche to help your visitor to gain more.
Be Patience because it takes some time before your blog traffic would pick up. Google would rank your blog after some months, this help to prevent scammer from reaping money from unsuspecting visitors. Because scammer can't wait for some time to get their reward. During that time, you can start building backlink to your blog to improve your blog domain authority.
Once the traffic to your blog has picked up, you can apply for Google Adsense by displaying ads on your blog or join affiliate program in your niche. Affiliate marketing works by promoting goods or service on your blog and if a reader buys from your link, you get a commission from the company around 20 – 4 0%, this is the popular way of monetizing your blog.
Which Blogging Niche can I join?
A well-maintained blog involves spending a little amount of money ranging from the domain name, hosting, theme, plugins, and other service.  And you want to recoup your investment to avoid wasting money but I can't choose a blogging niche for you.
I will list few blogging niches and different topics that you can write about.
Beauty Niche
Beauty niche focus on helping visitor to get better, this niche is filled with different topics that you can write about: it has a high return on investment, with many affiliate program to join like ShareASale, moreniche, commission junction.
This niche involves the addition of high-quality media like image and video to your post, to show your visitor what you are talking about.
Related topics that you can write about include:
Skin disease and infection
How to prepare natural based remedies for skin disease.
Acne, pimple, or eczema
Beauty product review
Fashion
Blogging Niche
Example of blog in the blogging niche is my personal blog, where I share blogging tips to help new and old blogger to improve in their journey to become professional blogger.
Popular topics include:
Blogging Tips
Content marketing
Traffic
Web design
Social media
Blog income report
Technology Niche
This blogging niche focus on how technology, and how they affect our daily life. This blogging niche is filled with so many exciting contents to write about. Since technology is not static and it keeps improving every day, there are different topics to write about.
Phone, Computer, Software, and Hardware
DIY
Tutorial and so on
There are so many blogging niches that you can find and focus your blog on. You can blog about two or three blogging niches depending on your choice like relationship niche and inspiration quote. Share with us your experience when choosing blogging niche to focus on.