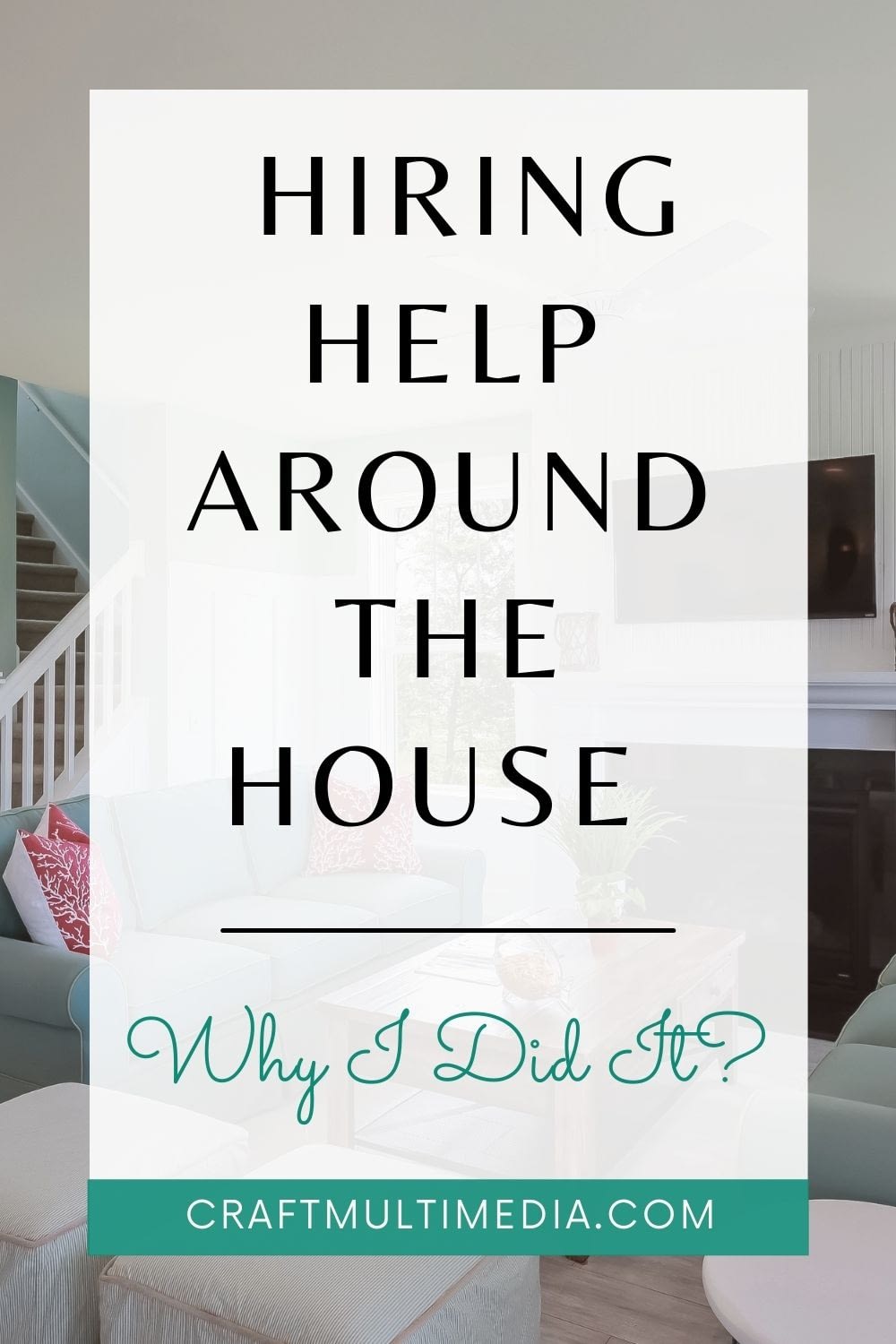 We all need help sometimes. When you have a busy life with work, kids, and maintaining your home, it can become more and more difficult to juggle everything and get it done. I had the mindset after buying my house that I would do everything on my own as well. But with time, I've realized that I need help.
The big questions when hiring help around the house are:
Will I be throwing money down the drain if I hire help?
How much of an impact would getting a house cleaner have on my budget?
What is the real benefit of going through with it?
It took a while to sort through what this would mean for me and my life. Read on for the thought process I went through, and the realizations I made along the process of hiring help.
What Am I Getting In Exchange For My Spending?
I think this is what took me the longest to realize, and what makes the most impact. When you spend money to hire help, you are gaining free time. Time, which is invaluable, the most important commodity we have, and something we will never get back (whereas we can always earn more money).
Reduced Stress
When we're tired and spent from a busy week, the last thing any of us want to do is housework. Exchanging dollars for time frees up not only the hours in the day, but also reduces the stress and pressure of having to be productive when we're tired.
When I'm feeling overwhelmed by what I have to get done, this often can trigger my anxiety. It becomes harder to focus on what I need to do, and my energy quickly gets sapped.
Being able to have someone help around the house means you immediately reduce your to-do list.
Less on my to-do list, means less stress. I've realized that the more I can keep my mind in a healthy state, the easier it is for me to be the best version of myself. I don't get as frustrated or stressed out as easily, and I'm a much more enjoyable person to be around.
Time For Hobbies
In addition, with newfound free time, you free up your mind space to do other tasks that may be more important to you. Got any projects you're working on? Passion projects that you want to start? Hobbies you'd like to hone?
Time With Family
I love spending time with family and friends. Freeing up my days off gives me the opportunity to do more with them without worrying that I'm neglecting other areas of my life. Time with loved ones is one avenue to relax and unwind and can be a wonderful reminder of what life is all about.
As someone who has recently had to take care of sick parents, I can tell you that life is short, and prioritizing time with family should be the first thing you do. If for no other reason, make this the one that allows you to pay for help so that you can have the energy for family leftover.
Time For Side Hustles
If you've ever wanted to start something on the side to make money, but could never find the time, then hiring help around the house may end up being the answer. The time you gain can be spent building up a nice side hustle, generating more income, and ultimately coming out ahead despite the new cost of hired help!
Budget Impact of Hiring Help Around The House
On a general level, if I wanted to pay someone $200-$300 per month to help clean my house, that isn't going to have a significant impact on my budget.
Is being able to pay for a house cleaner a luxury? Yes. But it isn't a considerable expense relative to the amount of money I earn and can budget for. In addition, sacrificing a few percentage points with our savings rate isn't going to ruin our financial future.
In fact, it has a good chance of giving us more time and energy to create more memories with our family. It also might end up putting us in a position to increase our income further, since our overall stress level would go down, and we'd have more time to pursue career goals or alternative income streams.
Getting the Most Out Of Hiring Help
It's one thing to decide that you want some help in cleaning your house. But that is only the start of the discussion. You also want to make sure that your money is well spent on the right people, and you get the most benefit. As part of bringing in hired help, you will want to think about the following questions:
How much help do we need and how much help do we want?
What exactly would a house cleaner do?
How often would they need to come in?
What would be the best time for a house cleaner to come in?
How much you need to budget for a house cleaner will primarily depend on what you want them to do, and how often.
In my case, I don't need help with the day to day stuff, which includes:
Dishes
General picking up around the house
When I thought about it, it was more of the "deep cleaning" tasks that would be the most beneficial for them to focus on. These include:
Cleaning bathrooms
Deep cleaning tubs
Vacuuming floors, including our stairs
Mopping floors
Cleaning the stove and fridge
Miscellaneous tasks around the house to help with maintenance and cleanliness
Sitting down and figuring out how long it takes you to do the following (or not to do the following), can help figure out how often you might want someone to come in, and about how much time it might take them to complete these tasks.
For me, it would probably take around 10- 20-hours per month to complete the above list, especially if I do them thoroughly and by myself. Based on that, I decided having someone come twice a month, or every two weeks, for a few hours each time would probably give me (and my home) the most benefit and still be reasonable from a financial standpoint.
How Much Does a Hiring Help Cost?
First set your budget, and then look for people in your area that fall within or close to that budget. My budget is anywhere from 20-40 dollars an hour (I live in California) and my assumption is that they will come for 4-5 hours each time, twice a month. Doing the math, this amounts to $100-$200 per visit.
Online sites to help you understand the going rate in your hometown, include: Thumbtack, Care.com, Angies List and TaskRabbit. Another option is to ask for direct recommendations from friends and family.
My biggest concern with hiring a cleaner is making sure they are reliable, trustworthy, and are insured. I don't want to have to stress about wondering if they are going to show up and do a good job (that would defeat the purpose).
Shifting Your Mindset
I know that I am lucky to be in a position where a few hundred dollars isn't a huge financial decision or burden. However, no matter the phase of life you're in, I do think there should be a balance in spending/saving and freedom of time.
For me, my free time equates to better mental health and wellness. For many I know who have kids, it's a huge relief to have help and equates to quality family time and improved relationships.
When making the decision of what to balance and when, often that means loosening your budget, or maybe prioritizing this over other spending habits.
When it comes to investing and working on the road to financial independence, you may hear that you should avoid this kind of luxury spending. But again, there is a balance. What's the point of saving money if you can't spend it joyfully? Isn't life more than always trying to save as much money as possible? Being miserable in your prime is no way to live. At the end of the day, on top of saving and investing you should also enjoy life, and make your free time meaningful.
In other words, you can think of hiring help around the house as an investment in your free time. One that can potentially enrich your life much more than a bigger bank account.
Final Thoughts
Hiring help around the house is a great way to free your time to enjoy life, pursue interests, and build new income streams. As they say "time is money", so invest in your time so that you can enjoy the returns that really living life has to offer.
Author Sanjana Vig
Bio: Sanjana is a physician anesthesiologist, avid traveler, and entrepreneur. She founded The Female Professional in order to give women a voice, a community, and provide resources to help them overcome hurdles and achieve success. With her experiences as a physician, as a CEO of a startup, and as a writer, she understands the struggles and frustrations that women face. She also understands what it takes to move past those things and come out on top. Through this platform, Sanjana aims to empower women to be their best, authentic, selves, achieve work/life balance, and live life to the fullest.