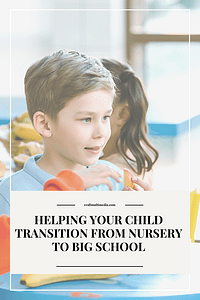 The time has come for your child to transition from nursery to big school. Just like their move to nursery, it may come with initial resistance as they're leaving behind a place that they've gotten used to and familiar faces. Like then, they will be settled in no time with your help. Here are tips that were put together by a nursery school in London to help.
Moving to a new school can be an exciting experience. Your child has the opportunity to make new friends, learn cool things and explore new school grounds. It may even be bigger and host more facilities than the one before. Talking about all of these positives can help to make the move seem less daunting and on that they are geared up for.
The hardest part about moving school is leaving your friends behind. While they may still be young, this may affect them and one way that you can minimise this feeling is by keeping in touch with their parents. You can arrange playdates and even check to see if there's anyone moving to the same school as them.
Look Out for Non-Verbal Signs
Children aren't always able to talk about how they're feeling. They may not fully understand and struggle to find the words. There are sometimes no verbal signs that you can pick up on. For example, when a child wets the bed, it may be a sign of stress and anxiety. However, it can also be down to many other reasons which is why it's important to speak to your child to see how they are feeling.
Following these tips will help your child transition from nursery school to big school and also help you to prepare better for your child transition.
We hope that these tips helped. For more parenting tips and ideas, check out our latest blog posts!