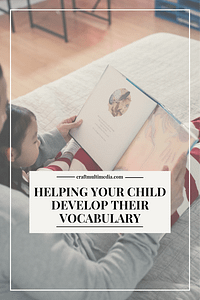 Developing your child's vocabulary is important because it can enrich their speech, helping them to communicate better and improve their work at school. There are many ways in which you can do this from diversifying the words that you use to making story time a regular thing. Below are some more that were recommended to us by a private education provider.
Reading makes us smarter and that's a fact. It teaches us new words, helping us with comprehension and to read more to learn more. If your child's a pain to motivate, having a set time for story time can help to make sure that they get their recommended 20-minutes of reading time a day. You can also take it in turns to make it easier on them if they struggle.
A word wall serves as a visual reminder of the progress that your child's made. It can help motivate them to learn and remember more words to keep it growing and make sure that they are not forgotten.
Your child will have spellings that they are set to practice every week ahead of their weekly spellings test. They will need to remember them in order to do well in class and it is something that you can help them with by testing them.
Word of The Day is a random word generator that helps you to expand your vocabulary. Versions can either be downloaded to a device or a desktop. The benefit is that they will slowly learn new words with minimal effort. Over the course of a year, it's possible for them to learn up to 365 new words. To reinforce them and make sure that they are not forgotten about, you can set tasks around these where they must write 5 sentences with the words in the right context.