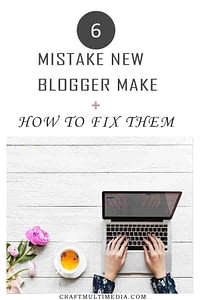 There are so many mistakes that new blogger make when starting a new blog. With so many steps to take before your blog can stand out from the rest. Blogging is a serious business with many established blogger turning their blog into a full-time business. I am going to show 6 mistakes new blogger make and show you how to fix them by yourself.
If you think I am lying you can check the income report of established blogger in your niche and you will be surprised. What started as a hobby is now a money-making full-time business.
Before I show six mistakes new blogger makes and show you how to fix them, I am sure that you already have your own personal blog. If you don't know how to create your blog, you can read my guide, where I show you how to create a blog on different platforms like WordPress, Blogger, and Tumblr and so on.
I personally prefer using paid platform like WordPress instead of free platform, the only downside is that you need to spend a small amount of money monthly or yearly in maintaining your blog, if you are looking for cheap and reliable web hosting to hosting your blog, you can use BlueHost because:
Free domain name of your choice, instead of buying domain name from domain registrar, Bluehost offer free domain name. If you don't know the step to take before buying your domain name, you can read the guide here.
Cheap hosting plan, for just $2.95 per month, you are guaranteed that your blog will be online.
Excellent customer service to answer your question and help you if you lose your ways during the installation of WordPress and designing your blog.
30 days money back guaranteed, if you don't like their hosting plan within the first 30 days of paying, you can get your money back.
6 Mistakes New Blogger Make and How to Fix Them
Every blogger make mistake in their journey to become a professional blogger, the most important thing is that they fix the mistake. I will show the six mistakes that every new blogger makes and how you can fix them.
A sitemap is your site description that shows search engine robot all the pages and post in your blog that they can crawl and index. If you don't have your blog sitemap, you can't get any traffic from search engine. Without traffic, your blog would die prematurely.
To avoid sudden death of blog, you should create your blog sitemap and submit the sitemap to search engine consoles like Google Search Console, Bing Webmaster, and Yandex Webmaster and so on. When you submit your blog sitemap to search engine console, search engine would be able to crawl your blog faster and accurately for keyword for better ranking in the SERP.
If you don't how know to create your blog sitemap, you can read the guide where I explained how to use Yoast SEO to create a sitemap and submit the sitemap to search engine console.
Not installing SSL on your blog
An SSL provides an extra secure layer on your blog to protect your visitor data like location, credit card, email address, and name. When you installed SSL on your blog, it displays a green locked icon beside your blog URL.
Search engine like Google favor blog with SSL and gives them a high ranking in the SERP for keywords because Google believes that your blog is secure and trust your blog by giving your blog high ranking in the SERP.
Bluehost give your free SSL when you buy your hosting plan, enable your free SSL from Bluehost dashboard.
Media like image or video on your blog post help to improve visitor experience when they visit your blog. Even with detailed content with up to 3000 words, your visitor experience would be sour because media gives your visitor visual experience and summarise your content.
Add images to your blog can also lead to an increase in social media shares especially Pinterest. If you are thinking of getting traffic from Pinterest makes sure that you include images that are well design and vertical.
You can find high-quality image to use on your blog on websites like Pexels.com, Unsplash.com, and Pixabay.com. Make sure that the image you choose is not copyrighted.
This is the first thing I always advise new blogger using WordPress to change. WordPress comes with different permalink structure that you can use depending on your preference.
The most widely used is the permalink structure is the adding of post title directly to the domain name.  Instead of default permalink structure https://www.craftmultimedia.com/2018/11/04 /how-make-money your permalink structure should be like this https://www.craftmultimedia.com/how-make-money
You can also change the permalink of your blog post if your blog title is too long and you can to target 3-4 word keyword.
Slow Loading Speed Of Blog
If your blog loads slowly you are losing valuable visitor from your blog because most visitor would quit the page before loading and if they wait for it to load, they won't interact with other pages and post on your blog thereby increasing your blog bounce rate. If you want to get traffic to your blog, you need to have a fast loading time which will help your visitor to stay on your blog, reduce the bounce rate of your blog, and increase your blog page view and eventually your blog revenue.
Since you can't know the loading speed of your blog or website, there are free tools that you can use to find the loading speed of your blog. One of them is Pingdom; it shows your blog loading speed and suggests steps to take to improve your website loading speed if your blog is too slow.
When you enter your blog, Pingdom displays your website speed rating score, the highest you can get is 100.
If you want to rank higher for keywords, the best way is keyword research. It helps to prevent trying to rank for keyword with high competition because established already rank for the same keyword.
Semrush can be used to perform keyword research before you start writing a new post, new blogger should focus on keyword with low competition to get organic traffic.
This is the six mistake that new blogger make, if you make any above mistake on your blog, make sure that you fix it fast because it can lead to low ranking in the SERP.
If you know of any other mistake that new blogger make and is not listed, please share with us in the comment box below.