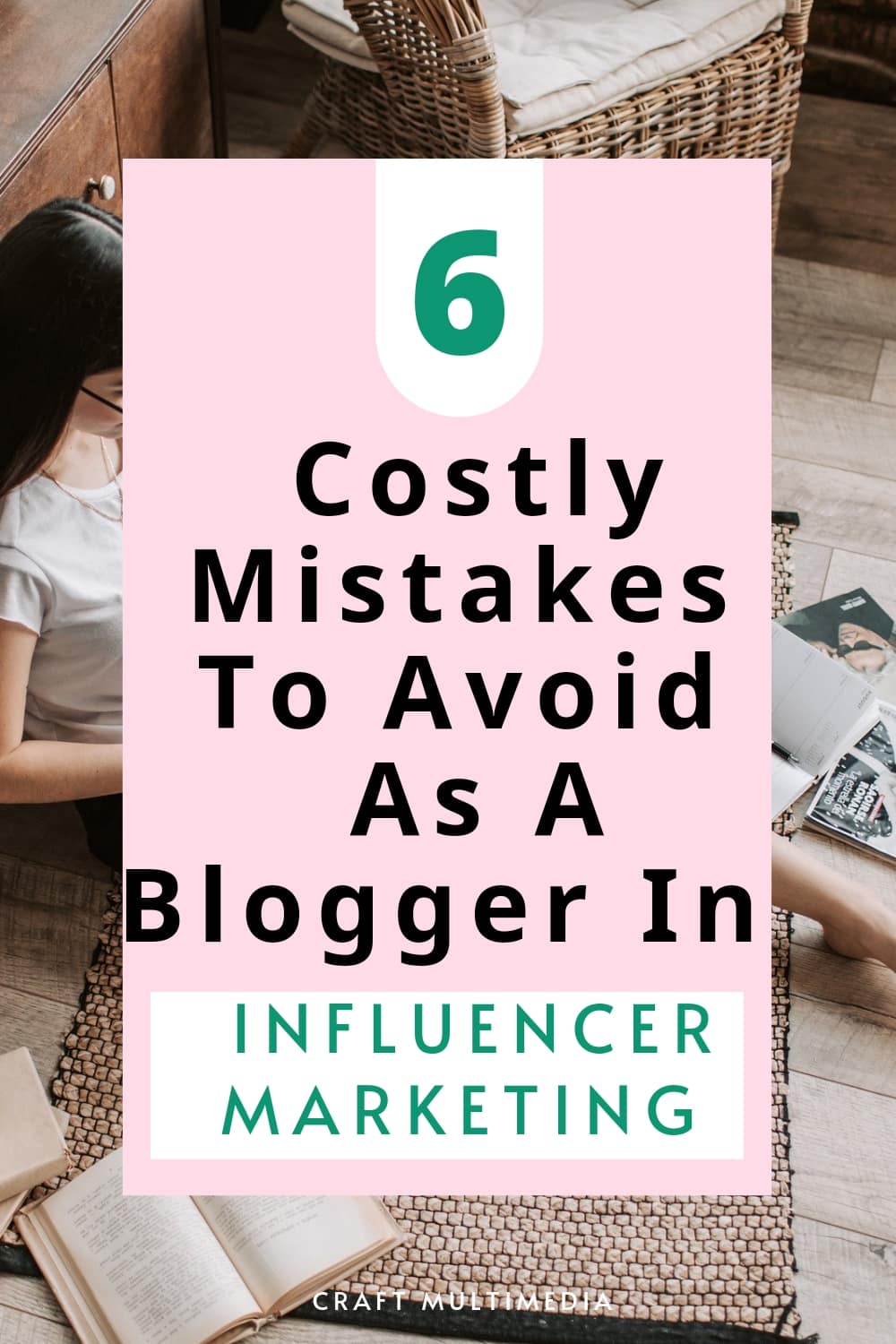 Influencer marketing is an effective way of reaching an engaged audience using the services of influencers and bloggers to show your product and service in a positive light.
But when done correctly, it can lead to successful collaboration between bloggers and brands, an increase in customer acquisition, and business revenue.
There are so many mistakes affecting bloggers in influencer marketing. In this article, we will look at 6 costly mistakes to avoid as a blogger in influencer marketing.
6 Costly Mistakes To Avoid As A Blogger In Influencer Marketing
The first mistake that can affect bloggers and brands is that some bloggers don't have control of their blogs and rely on free blogging platforms. You can start with WordPress as your blogging platform, all you need is to have a domain name, host, and a web designer to help you design your blog.
Having your blog makes you look professional, and when you reach out to a brand, the brand will take you serious. Influencer using Twitter, Pinterest, Instagram, and Tit Tok can also have their blog.
Not having a Contact Us or Sponsored Post Page on your blog
Another mistake most bloggers make is not having a Contact Us or Sponsored Post page on their blog. A Contact Us/Sponsored Post page allows brands like your blog to reach out to you directly.
The Contact Us page must be submitted to search engines like Bing and Google so that the page can be indexed and ranked on their search engine. This gives you an extra visit to your blog page.
Not joining the influencer marketing marketplace
The impact of influencer marketing on brands is huge, and most brands prefer using the influencer marketing marketplace to find bloggers and influencers for their campaigns.
The advantage of using the marketplace is that brands are sure that they can find verified bloggers using metrics like Domain authority, domain rating, trust flow, Alexa ranking, etc. While blogger is sure they will be paid for their services because the marketplace act as an escrow between the brand and blogger, showcase influencer to brand, and negotiate on your behalf. Blogging network is very important if you want to find a verified marketing campaign that you can apply for, and if selected, you are sure that you will be paid for your services.
Not using social media to find a marketing campaign
It is not every brand that makes use of the influencer marketplace to find bloggers. Some brands make use of Twitter and Facebook to find a blogger who is interested in working with them. You can start joining Facebook blogger group and be on the lookout for blogger opportunities from brands. While on Twitter, you can use Hashtags like #bloggerswanted #bloggersrequired daily to find blogger opportunities you can work on.
Slow response to a brand email 
Brand using blogger outreach tools like Ninja Outreach, BuzzSumo, PitchBox, and so on to find a prospective blogger for collaboration reach out to many bloggers, and only select a few that are fast to reply to their message.
You should reply to brand email fast if you want to be selected for the campaign. Your blog email account must be active, and you should check your email daily.
Not knowing how much to charge
The last mistake that can affect bloggers is not knowing how much to charge. When you use the service of influencer marketplace, you already know the budget rate of the brand, but what will you do if they reach out to you for collaboration?
Brand outreach to blogger does not specify how much they are willing to spend; it is now left for you to decide the amount to charge per sponsored post. You can determine the fee by looking at the number of unique visitors per month, domain authority, brand worth, etc. Most bloggers charge $100 per sponsored post as beginners and increase their fee as their blog traffic increases.
If you are just starting as a blogger in influencer marketing, you should join a proven and reliable influencer marketplace to find the paid campaign and product reviews. Reach out to other bloggers and become active on social media.
Do you have any mistakes you make as a blogger in influencer marketing? Do you reach out to brands or rely on the influencer marketplace? Let us know in the comments section below!