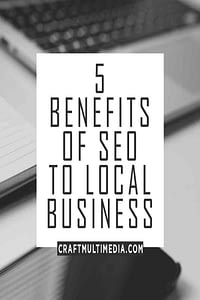 The secret to every successful business website is SEO, in this post you are going to learn the 5 Benefits of SEO to Business.
Almost all mortar and brick business has an online presence in the form of a website, depicting the service, testimonial, business plan to their visitor.
But what if the customer can't find your website because of the large amount of website, how will they find the amazing service that you offer. Creating a website of your business is not the only step that drives thousands of organic visitors to your website but you need your website to be properly search engine optimized before you can get valuable traffic from search engine.
The benefits that every business owner derive from creating a website is much with as much as 92% of customer would visit business address to purchase your product, call your phone for direction or enquires after visiting your business website, but ranking higher for keywords in the search engine can be difficult with established website with high domain authority dominating the search engine for keywords with high search volume.
For you to succeed in your business, you have to understand what is SEO, and the benefits you can get from SEO. But most small businesses do not care about SEO, they simply create the business website and stops working on SEO of their website. This practice has stopped small business owner from getting organic traffic to their website because SEO involves time and patience.
In this article, I would list the benefits of SEO to business whether small or medium business, if you don't know how to SEO your website properly, there are trusted SEO agency with proven track record and experience, that you can consult for your business.
5 Benefits of SEO to Business
High Ranking for Keywords
Before Google can rank your website for keywords, there are steps that you have to take:
Include your keywords in the title page, URL, h1, h2, h3, and conclusion of your article. When search engine robots visit your website, it would crawl and index your post with keywords that you are trying to rank for.
Write a long post of 1500 to 2000 words with images, video, or infographic to help your visitor understand your post.
Make sure that your website is mobile friendly to get mobile user with 54% of user on Google using mobile You also avoid Google penalization that target site that is not mobile friendly which can lead to a low ranking of your content in their search console.
Reduce the loading time of your website to Google standard, this reduces your bounce rate and increase your ranking position in the SERP.
When you do this, Google would consider your content high valuable to its user and crawl and index your keywords.
Look for keywords of buying customer related to your business in the discovery stage and within your location, when your website is ranked higher for these keywords in SERP, the number of visitor increases and you are sure that the visitor can become your customer eventually.
Increase your business exposure
Before any customer can buy any products, they have to know your business before and what your business stands for. An online website can help to increase your business exposure to numerous customers about your business.
Even if they do not make any purchase right away, you can be sure that when they need your service, you will be their first point of call.
Business that target local customer gain more because their targeted audience is not large and their prospective customer can know more about their business using online platform through their website and offline platform through their physical address.
24/7 Customer Support
For small business with no fund to spare to hire a customer service officer every night to answer enquiries and question about your business, you can use your website as a customer support platform to engage your customer by providing quick solution to their problem using frequently ask question (FAQ) to highlight commonly ask question about your service and providing the answer.
To find the questions to include in your FAQ, you can conduct a quick survey by asking your customer to fill out a questionnaire about your service.
From the answers provided, you should be able to know the common problems that your customer face when using your service and include the questions and answer to the question in the FAQ section of your website.
Capture Your Visitor's heart
What makes a business stand out from the pack is their website, the first impression help visitor to trust your business and eventually buy your products is a well design and up to date website.
Your website makes it easy for you to capture your visitor's heart and trust your business. The very first place I look at when I visit small business website is the footer because it displays the years that the website was first created and if the website is still up to date. Your website should display the current year because it shows that your business is still functioning.
Another way to improve your visitor trust is to install SSL certificate on your website. When you install SSL certificate on your website, it displays a small green padlock icon beside your Url on your browser, this shows that your visitor data like email address, credit card, and phone number are secure. Google also increase the rank position of the website with SSL certificate in SERP over website without SSL certificate. Bluehost offer free SSL certificate along with your web hosting when you buy their buy for just $2.95 per month.
High Return of Investment
A well-optimized website involves time, planning, and money, if you think you can't spend your resources on SEO, you are losing money.
Compare the amount of money you spend on advertisement because you are looking for a targeted visitor to your site when you can get this targeted traffic for free.
Before you can achieve a high ranking for keywords, you need to have some time and patience, newly created website take for some time at least 3 – 6 month to rank their keyword in SERP.
Before you can benefit from SEO, you need to create and submit your sitemap to search engine console, this makes it easy for their search robot to crawl your website for keywords and monitor your site traffic, keyword ranking, and site performance through Google Analytics.
These are the 5 benefits of SEO to business, if you have any other benefits that you know; let us know in the comment box below.