Sharing is caring!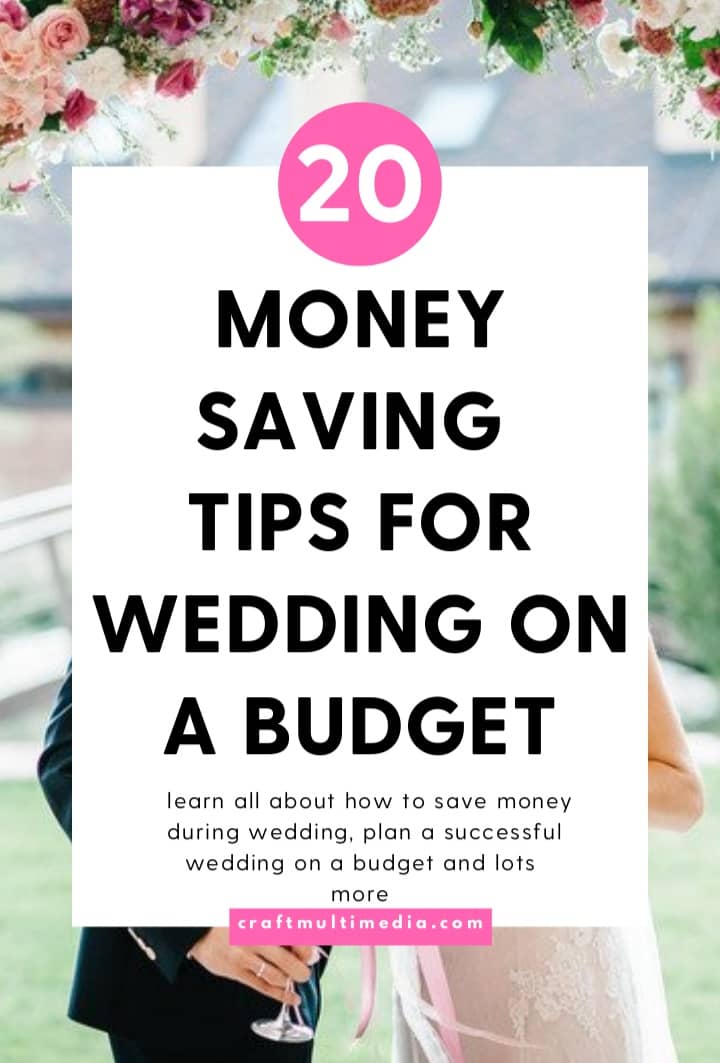 A wedding can be pricey when you find the right person. It really can. Some save for YEARS to relieve a proportion of the financial burden created by it. According to Hitched, the average cost of a wedding is £31,974 – more than the average yearly salary.
With this year being as unpredictable and in some cases, heartbreaking as it has been – there are still some positives. Covid will end, and weddings will still go ahead. This guide shares some tips for saving money to create the perfect wedding on a budget.
Wedding On A Budget: Ways To Save
Make your DIY table trinkets -It is a lot easier than once thought, and it saves you so much money. You could buy vases and artificial flowers, for example and dress them up with knick-knacks and decorative items

.
See if you can plan the wedding without a wedding planner, they can be costly after all.
Plan plan plan – make a detailed list of what you need first, then it should you be under the budget, then consider some "nice to have" items.
Strip it back – Not every element needs to be the best in the world / what all the influencers and celebrities have; it needs to be right for you.
Have a look on Pinterest, forums, and feeds to gain inspiration. Buying straight from the store could be expensive (or regretted). Shop around and consider similar alternatives.
Let your loved one's chip in – Usually allowing them to help (without being in control) can be beneficial to saving money while planning a wedding on a budget.
Remain consistent when financial budgeting – Understand that you are planning a wedding on a budget, know how much you can afford to spend, and stick to it. Going over budget can easily happen, especially as obstacles get in the way – so account for that in the planning process.
Get married when the time is right – Do not rush things for the sake of it – do it when you can afford it.
Ask for cash as a gift – This is a perfectly normal request – especially when you don't have specific gift requirements.
Elope – Always a suggestion for those that want a smaller wedding. With more ceremonies charging per head, it can be cheaper and help with bringing the price down.
Get a package deal – It may be cheaper to get everything from a one-stop shop – for example – venue, flowers, photographer/videographer.
Ask a friend to do your hair and makeup – Again, this brings the price down. More importantly, it brings a certain level of trust – especially as you can say what you like (and don't).
Buy a second-hand dress – Wedding dresses can be expensive, so opt for one second-hand. I know this is not for everyone, but many charity shops stock wedding dresses, usually at 75-90% off. A dress with saving this large allows for a larger buffer for alteration costs.
Have a BYO policy – For anyone that does not know this, many couples are opting for a "Bring Your Own Policy," which helps to have more people at the wedding but keeps the cost down.
Look for non-wedding items – Companies can add a premium on items attached to weddings, so look for purchases that do not have this costly label.
Wedding fairs really can be expensive – Imagine it, anything and everything you can imagine for your wedding in one place. So easy to buy things you do not need. Restrain yourself and keep a level head when attending.
Skip the wedding band – In a digital age, you may not need a fancy band or DJ. Stick a Spotify playlist on, with one person in control, and you have saved hundreds.
Do not try to please everyone – Trust me; it is costly. You do not need to be the couple with EVERYTHING at the wedding because it can be overwhelming. Stick to what you want, not what you think others want.
Do not have an open bar – They are expensive, and some people always use and abuse the system. As an alternative, give everyone a "one free drink" pass, and then it is handed over to the guests.
Make a monthly plan schedule, planning, and breaking up payments into small, manageable chunks.
Have your wedding ceremony and reception in the same place – This could be an ideal way of bringing the price down and making logistics easier – for example, taxis from venue to venue will not occur.