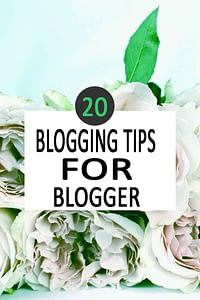 Starting a new blog is very easy, in fact you can design your blog within one hour and starting posting your content for your visitor to read about and comment on, but finding content to post on your blog involve carefully research about your topics and writing any topics on your blog without keyword research and including the keyword on your content won't bring organic traffic. I will share 20 blogging tips that I wish I knew about before starting my first blog and you can use this tips for your old and new site.
When I start my first blog beauty and health blog, I became frustrated when the traffic I got was low and stopped posting on my blog. All the quick and fast ways, that most bloggers talk about on getting traffic was not working, this makes me realize that blogging is a serious business that involves careful planning and marketing of your blog to increase your blog authority and visitor.
Blog Design
Make sure that your blog is well designed; avoid using confusing color on your blog, you can stick to two color combination on your blog design.
Create about me page so that visitor can know what your blog is all about, writing about me or a short description of your blog that highlight what your blog is all about, what you want to achieve and who is your target audience. A blog about football should write a description that football fans and the visitor can understand instead of writing a broad description of sports in general.
Create a contact page where you visitor can know how to contact you for when they have questions that they want you to answer. This can also help you in finding another blogger that are interested in guest posting on your blog. A professional email address would work for all blog, but when your blog is getting large visitor and generating revenue from your blog, you can turn your blog to a business and you need an office address because it looks more professional.
Avoid using a free email address like Gmail, Outlook, and Yahoo, your blog is a business and you need to have a professional address. Instead of [email protected] which is free, you can instead use [email protected] which you can get for free alongside your web hosting from Bluehost.
Replace unwanted banner that you placed on the left-hand side of your blog with a contact page where you visitor can visit you, you can use contact 7 plugins to design a nice contact page. If you wanted to place a banner on your blog, both paid and free theme allows you to place your banner where your visitor can see it and click on it.
Content Optimization
Write a longer post around 1000 – 2000 words, this will enable the search engine to crawl and index your post. If you write a shorter post that is less than 300, search engine would assume that the post is too short and won't crawl and index your post.
Make your blog post search engine optimized, so that search engine can crawl and index your blog post and rank it for the keywords. Carefully research about the topics that you want to write about. Log in to your Semrush account or create one if you don't have one, search for topics and look at the search volume that is around 50 to 500 per month. Write relevant content around the keyword you research about. If the search volume is too high the competition would be too high this will affect your blog rank because the newly created blog has low Domain Authority (DA) and Page Authority (PA).
Include keyword in the Title – After getting the keyword that you want to write your post about, the next step is to include the keyword in your post, so that search engine can crawl your post for the keyword and eventually rank your blog post. The very first step is to include the keyword around the title of the blog post; the title is the first thing that new visitor sees when they enter your post, so creating compelling title would make them to read your post. If you are using WordPress as your blogging platform, you can Install Yoast plugin, which will help to create search engine optimized
Include Keyword in Heading, Sub Heading, and Concluding Paragraph – Search engine crawls post by looking for relevant keyword in the heading, subheading, and the concluding paragraph of your post. Be careful when including the keyword so as to avoid over stuffing of keyword, which can lead to Google penalizing your blog and leading to low rank of post, since we want the post to be search engine optimized make sure that the keyword is evenly distributed in the post to enable search engine robot to crawl and index your post easily.
Anchor Text – These are hyperlink that link text or phrase to another post, this could be external or internal depending on how relevant the link is to your content, creating an anchor text that is relevant to your post can be beneficial as you are enriching your visitor with related content and also creating link to other blogs, if they like your content they can also link back thereby increasing your domain authority and page authority.
Optimized Image – Image can also be used to create a wonderful reading experience for your reader, most blogger uses an optimized image that Google can crawl Use your keyword in the alt attribute of the image that you upload, as you can get decent traffic from pictures that you used on your post directly from search engine when user use image search.
Optimized URL – The URL of your blog post is found directly under the title box. WordPress assume that the URL or permalink is the same with your title. You can edit this portion to look more optimized by making it shorter and including the targeted keyword. You can use goalgetter.com/how-to-achieve-goals instead of using www.goalgetter.com/100-ways-to-get-goals-and-achieve-your-goal which is too long.
Search Engine Optimization
Install SSL certificate on your blog, will help search engine like Google, Bing, or Ask to rank your blog post higher than a blog without SSL certificate because your blog is secured and the search engine can send its user to your blog because user data are safe and secured. To check if you have installed SSL certificate on your blog, if your blog starts with https instead of the traditional HTTP or your browser display a locked green padlock beside your blog address instead of a small letter 'i' in a circle, this means that you have SSL on your blog. If you have not install SSL certificate on your blog, you can contact your hosting provider on how to install SSL certificate on your blog.
Create your blog sitemap and submit it to search engine webmaster like Google search console, Bing webmaster. This will help them to crawl and index your blog for new and old content. If you have not created and submit your blog sitemap, you won't be getting organic traffic from search engine.
Reduce your blog loading speed, loading speed is the time it took a page to load, a decent loading speed of less than 3 seconds is recommended for blog, Use tools like to check your page loading speed; you can remove unwanted pictures and plugin to reduce the loading speed and thereby increasing your visitor.
Use a mobile optimized theme for your blog to get traffic from mobile device, use to check if your blog is well optimized for mobile visitor thereby getting traffic to your blog from mobile
Marketing and Networking
Install Social media sharing button on blog to help your visitor to share the content on your blog to their social media account, this will lead to more traffic to your blog, Install social sharing plugin on your blog at the start of your content.
Build your email list once you start your blog and send your article to your email list to increase your blog visitor. You can use MailChimp which allow you to get 2000 email subscriber and upgrade when your email subscriber is more than 2000.
Find and engage with fellow blogger related to your blog, you can comment and guest post on their blog to improve your blog authority and visitor.
Join forum that is related to your blog and engage with other members. Most forums allow you to post after some time, ensure that your post is relevant and don't spam this forum because it can lead to a ban.
This 20 blogging tips for blogger would help you to avoid an unnecessary quagmire, if you have any other tips that would help other blogger, you can share with us in the comment box.