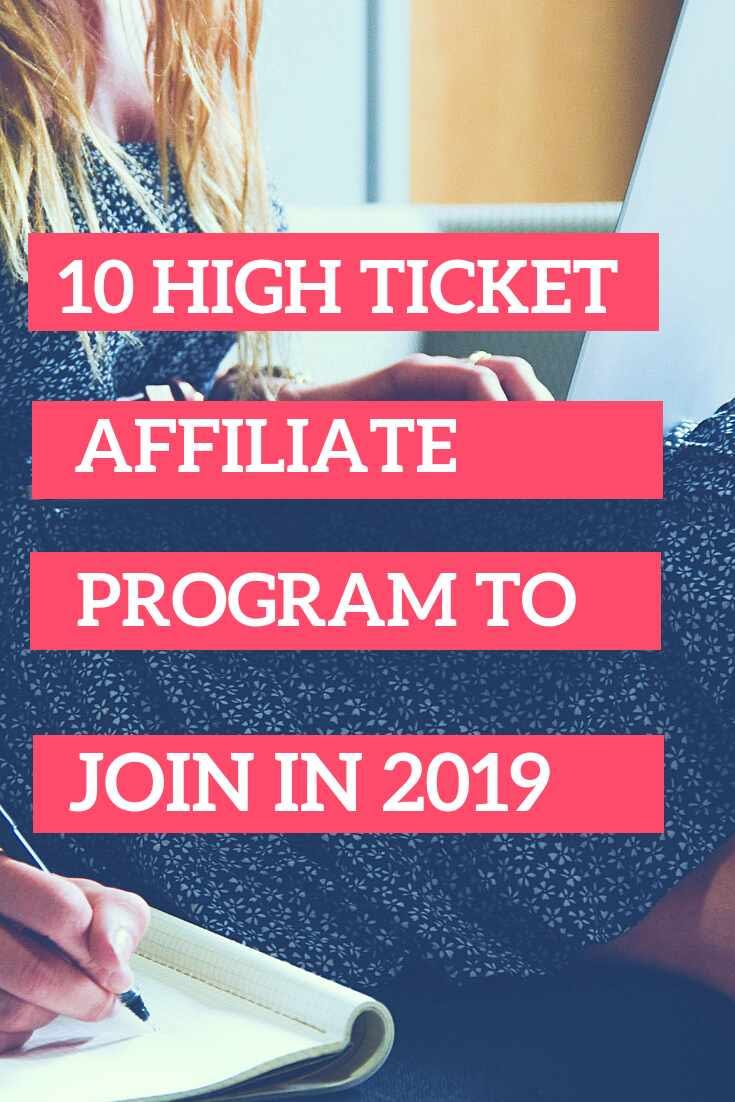 If you are new to affiliate marketing, you might not know about high ticket affiliate programs, where a lot of bloggers and influencer are using their blog and social media followers as source of traffic to high ticket affiliate programs in turn they make a lot of money from this program.
If you are looking for a way to make money online and you have tried a lot of programs and at the end of the day, you were scammed of your money and you waste your time and resources on promoting their fake program. This is because you are working for fake companies, who are looking for newbie by offering high mouthering offers that is higher than the industry average.
If you don't want to waste your money and time on fake program, I will list 10 high ticket affiliate programs that you can join and promote their offers. If you make money with this high ticket affiliate programs, you are sure of getting paid at the end of the agreed payment date.
Affiliate programs listed are carefully selected for you to join without worrying about any problem. If you have any misunderstanding about their terms and conditions, you can reach out to their customers service to sort out the issue.
I have previously listed fake program that offer high amount of money per task, most of this fake program involve get paid to (got) sites, survey and opinion poll website and so on, most of this fake program involve get paid to (got) sites, survey and opinion poll website and so on. And they also have their affiliate programs that their members join and you might have seen the link on your social media account, when your friends and followers share the link. It is better to avoid this fake companies affiliate programs.
How to make money from your blog
The easiest way of making money online is through blogging. Once your blog traffic increases you are sure of making money online every month without any stress.
You can start your blog, without any assistance. All you have to do is buy your domain name, hosting service, theme and plugins.
It is better that you stick with wordpress.org as your blogging platform because it is open source and easy to set up with numerous plugins to improve your blog design and performance. If you don't have money, you can also use free blogging platform like blogger, wix, wordpress and so on.
What is affiliate marketing and how does affiliate marketing works?
Affiliate marketing is a business model where company and brand partners with individual to promote their products and service and in return, the company or brands rewards their partners with a percentage of the sale when people purchase their products through their link.
This business model involve three simple steps namely:
Affiliate partners join affiliate programs of their choice. The affiliate programs can have requirements that partners must meet before joining.
After joining, the partner is giving a unique tracking code in their affiliate link. The partner share the link on their blog, social media account and so many more. This is done to send traffic to their affiliate programs website.
Once the visitor from partner affiliate link, purchase a products, the partner is credited with a percentage of the amount purchase.
Why Should You Join High Ticket Affiliate Programs
Am sure by now that you have understand how affiliate marketing works. Then the next question is why should partners join high ticket affiliate programs and what high ticket affiliate program is all about.
High ticket affiliate programs are programs where partners commission is very high. While some affiliate program pay its partner $1 – $2 in commission per sale, high ticket affiliate programs pay its partner $10 – $1,000 per sale.
This type of affiliate programs can lead to a huge increase in blogger revenue per month.
10 High Ticket Affiliate Programs
1. Semrush
Semrush is a powerful seo tool that seo manager and blogger use everyday. The tool is one of the best comprehensive seo tools that you can use for keyword research, domain research, rank tracking, rank checker and so many more.
The price range from $99.95 to $399.95 per month if you choose to pay per month. Semrush affiliate commission is 40% per sale. The only downside is that the tracking code is 10 years and semrush is very popular which can be hard for you to make money through the company.
Semrush also offer free 10 search per day for your online business to check if the company is right for you and your blog visitor.
2. Ninja Outreach
Ninja outreach is a tool that help business owner and blogger in their outreach. The tool can help blogger find new backlinks to their blog thereby increasing their ranking position.
Ninja outreach is one of the best outreach tool in the market and if you promote this tool to your follower, you can make 20% recurring commission per month.
Their price starts from $59 to $599 per month and when your visitor subscribe to $59 plan, you get $11.80 commission.
3. ClickFunnels
Clickfunnels is one of the best landing page builder in the market, though it has expanded its service to include collect email list, send targeted email, sell products, email follow up and so on.
The price starts from $97 per month and its affiliate partner get 40% recurring commision per month. As a clickfunnels affiliate, you can make up to $118.80 per month per active customer. Clickfunnels pay its partner twice a month usually on the 1st and 15th of every month and support PayPal, wire transfer, check and ACH.
4. Shopify
Shopify is a leading e-commerce platform that has help a lot of entrepreneur in building their e-commerce websites.
Shopify has its own affiliate program where you can join and promote shopify on your blog. Affiliate partner make a one time fee of 200% per sale or 20% recurring commission per month.
Shopify pricing starts at $9.99 per month and affiliate partner can withdraw their earning to their PayPal account.
5. StudioPress
If you love to promote theme on your blog to your visitor, then you need to consider studiopress.
StudioPress has one of the fastest load time of theme and their theme is built on Genesis framework that is seo-friendly.
StudioPress affiliate program is manage by shareasale and you earn 35% per sale.
6. WpEngine
WpEngine partner with StudioPress by giving individual or business who use WpEngine free Studiopress theme.
WpEngine is a web hosting better suited for business owner who care about site performance and security. Though not as cheap a other host provider. Their fast load time makes it a must have for every business website.
If you joining WpEngine through Shareasale, you get $200 minimum commissions for WP Engine sales.
7. Kinsta
Kinsta is a wordpress host provider that is dedicated to take care of all your website needs.
If you join and promote kinsta to your blog visitor you can make up to $50 – $500 per sale depending on the plan they purchase.
8. Long tail pro
Long tail pro is a keyword research tool that help blogger and seo in finding the perfect keyword to rank for. If you are serious about seo, you need to invest in long tail pro keyword research.
The tool start from $24.99 a month and affiliate get 30% recurring commission.
9. Seo Power Suite
If you are considering seo, you need to invest by buying Seo Power Suite.
Seo power suite is an all in one seo tool that you can use for free by downloading the software and installing the software on your computer.
Seo power suite works on Windows and iOS computer and affiliate partner make money when their visitor installed the software and migrate to their paid plan.
Affiliate partner make up to $197 per sale commission.
10. Shareasale
Shareasale is a affiliate network that allow partner to join affiliate program. Shareasale handle the payment of affiliate program revenue to partners.
You can also make money online by promoting shareasale and if a merchant join affiliate network through your link, you get $150.